Weddings and Honeymoon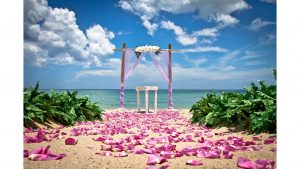 A dreamlike romantic getaway for newlyweds, we offer a honeymoon of pure bliss and relaxation. Spend your days stretched out on the sands or by your own private pool sipping on bubbly drinks. Be pampered with a couple's massage at our award-winning spa or dare to conquer the waves on a romantic sunset cruise.
Whether you want a simple cocktail reception, a private gathering, a full-scale gala dinner or the most romantic Zanzibar beach wedding, Africa For You offers many exclusive and  for a truly unforgettable special occasion.
The breathtaking beauty of the ocean sits at your feet, its turquoise blue waters reflecting the magic of your special moment. Your wedding day should be one of the happiest occasions of your life.
Destinations include; Mauritius, Zanzibar, Mombasa, Maldives, Seychelles.
Destination Resort Hotels: Angsana Balaclava Mauritius, Zuri Zanzibar, Bon Azur Beach, Coco de Mer Hotel and Black Parrot Suites
No products were found matching your selection.